Welcome
to the specialist for professional storage and transport containers
Free technical advice
For your application by our experienced container specialists
Short delivery times for standard containers
Thanks to generous stocks and European quality production
Customised production
From sketches to prototypes to series production
Favourable prices
Directly from the manufacturer and extremely attractive quantity prices
Business Areas & Applications
Arcawa's two business units – Metal (mesh boxes , roll containers & pallet bodies) and Plastic (pallets, pallet frames and pallet boxes) – supply well thought-out and proven containers for almost all applications in professional distribution and warehouse logistics.
We take great care to ensure that our customers receive the right containers , in the right quantity at the right moment and of course at the best price. High quality with 3 years warranty and short delivery time from stock or customized / made to order.
We are happy to calculate razor-sharp quantity price offers – according to your needs – why pay more?
We are looking forward to your inquiry
Thank you for visiting us!
The Logimat 2023 fair in Stuttgart is already over.
Logimat 2023 in Stuttgart is already behind us again. The many face-to-face discussions mean a great added value for our company. Once again, it has been shown that personal contact is the optimal basis for good cooperation in order to successfully initiate and implement projects together. We hope that the trade fair was as interesting and informative for you as it was for us as exhibitors.
The entire Arcawa team would like to thank all interested parties, customers and partners for their visit to Logimat 2023 and the lively exchange of experiences at our stand. We are looking forward to a great cooperation with hopefully many new customers and a continuation of our successful business relationship with all our existing customers and partners.
Direction de ventes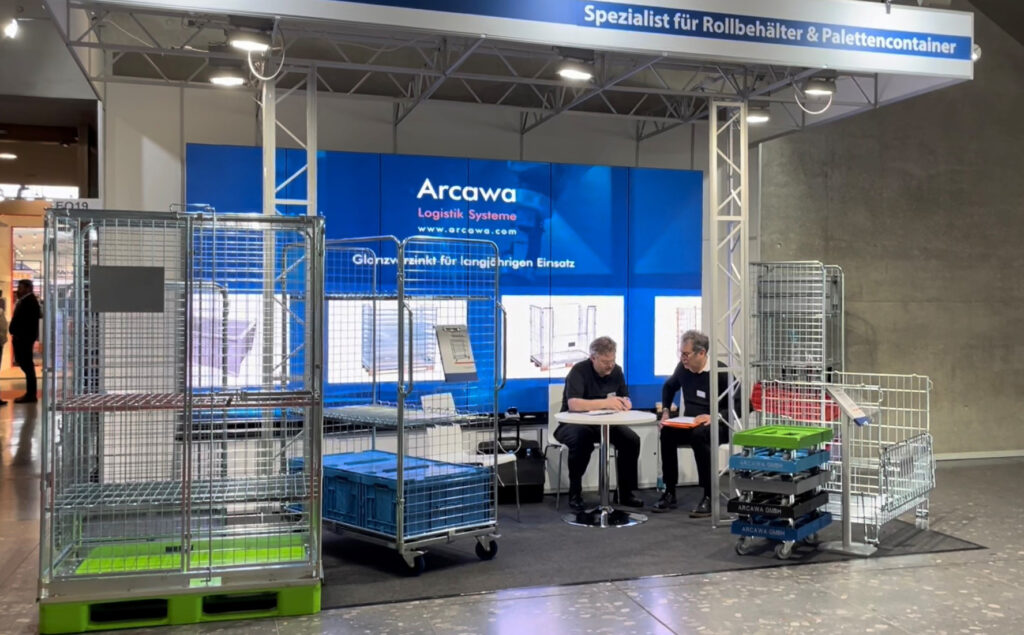 European quality production of lattice trolleys – lattice boxes and pallet superstructures made of bright galvanised industrial steel.
Large stock assortment of well thought-out articles, most of which have been tried and tested for many years
Large selection of robust, volume-reducible trolleys and foldable box pallets at favourable conditions.
We equip our long-lasting trolleys with the ideal castors for your application and, on request, we engrave and weld on ownership plates so that your property remains your property.
Efficient customised production from small to large series at a low price.
Our plastic pallets, pallet boxes and foldable pallet box systems are manufactured as standard containers in the usual high quality (ISO 9001 certified) and are usually available at short notice, even in large quantities, thanks to our generous stock-keeping. All our products can be produced in many colors and printed with your logo if desired.
One-way pallets are stocked for the customer in one of our distribution warehouses and delivered in the desired quantity and on the desired date
(e.g. on the basis of annual orders)
Robust reusable pallets, also with printing of your logo for industry and trade – but with a special focus on the food and pharmaceutical industry.
Hygienic pallet boxes in various colours and sizes as well as volume-reducible pendulum containers.